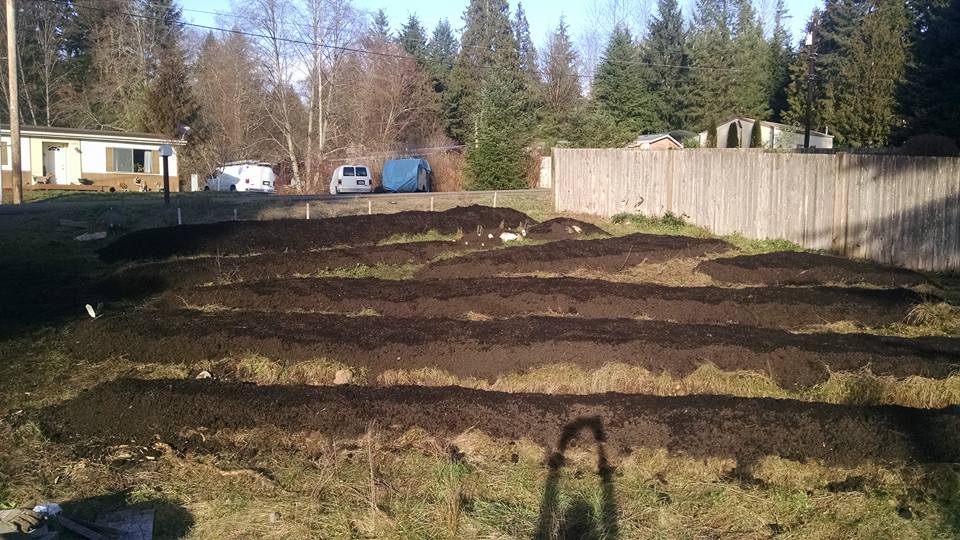 Why we are starting a suburban farm
I've wanted to have a farm for years now, and we are finally taking the leap – albeit a very careful, bit-sized leap. We are starting small, with the absolute minimum of expenses and complication. Our goal for this first year is to learn how to produce and sell food commercially, so that we can scale up intelligently next year. I've been the co-owner of a small software company for the last 7 years, and we have learned a lot about running an efficient, lean operation: lessons I'll be bringing to the farm, and lessons that I'll be sharing here as they apply. Below in this post I'll share what we have done to date, our expenses, and what is coming next.
The focus of this documenting will be to show how to make a decent living doing regenerative farming in a suburban area.
But why are we starting a farm? Oh, where do I start…
I plan to write a series of posts (or a book, or books!) about why I think it is important for us to be growing food. I'll just give a few quick reasons here. There is way, waaaaay more to say than I have space for here. I hope to go into much more depth on each of these topics in the future, and include many more as well.
Farming because I love my kids
Right now, when I work, I have to shoo my two little daughters away (they are 1 and 3 years old). And my professional work is not something they can even understand, much less participate in. It frustrates them, and it frustrates me. But growing plants? They love plants! Almost every time we eat a meal my 3 year old picks one of the foods we are eating and says we should grow it. They both love being outside, they both love looking at seed catalogs… and they both love spending time doing things with their parents.
Look at any culture before industrialization – children were not only able to understand what their parents were doing to provide a livelihood, they almost always were involved somehow! I strongly believe that children are meant to grow up engaged with their world, learning directly how to live from their parents and other close adults.
Meggan and I want to give our children the best childhood we can, to give a foundation for lifelong flourishing. For us, the best we can give them is growing up farming.
Farming for our health, and our community's health
Food that is raised well is incredibly more nutritious than food raised poorly (there is plenty of scientific evidence for this, by the way). If a person eats vegetables purchased from the store, it is difficult to get all of the phytonutrients and micronutrients that are needed to be healthy. This even applies to most organic food, too – the label "organic" means far less than what it might seem.
The short story is that healthy soil hosts an incredibly complex system of insects, microbes, and fungi that deliver a stunning array of services and nutrients to plants. Heirloom varieties of plants do far better at accumulating nutrients than the bland factory farm varieties. Modern industrial agriculture, including most organic farms – use nutritionally deficient varieties and engage in practices that destroy the life of the soil, reducing it to little more than sterile dust and sand.
In the United States, we don't even grow enough industrial vegetables for everybody to eat 5 servings a day. And there are very few truly nutritious fruits and vegetables being produced. To be healthy, my family needs this kind of food to be available, and the same for my community. I want to be a foot-soldier in the efforts to provide it.
And for us personally, tending the fields in clean, fresh air, rain and sunshine, is just about one of the healthiest forms of exercise that there is.
Farming for future generations
The way food is currently grown, with tilling and chemical fertilizers and pesticides and herbicides, we have an estimated 60 years before there is no more topsoil in the world. We can't grow food without topsoil, and the way we currently grow food destroys topsoil – it literally blows away as dust. That is 100% gone in 60 years, and we should expect massive hunger and starvation if we don't get our act together quickly, because every year we lose more and more land. We have already lost a third of the land that was capable of growing food.
The way we have gardened, and the way I will farm, actually creates topsoil, and also sequesters carbon from the atmosphere. Soil and dirt may seem boring – until you realize that almost everything you have ever eaten came from topsoil.
There are plenty of people working on figuring out how to produce food not just sustainably, but regeneratively. The process of farming can actually make the soil better, it can make habitats better, it can make the air cleaner and the rains more consistent. If done wrong, farming will literally starve us all within decades. When done right farming is an unbelievably powerful force for good and wellbeing.
And you know what? It has been shown that is possible to produce more food when farming properly than when people farm with the most modern chemicals, machines, and genetic engineering. And proper farming is far more resilient in the face of drought, pests, diseases, and changes in climate, whether manmade or natural.
Farming for conservation
We are in the middle of a mass extinction, and could lose 75% of all species on our planet. There are now many rural places where you can drive for miles with a clean windshield, while not many years ago it would have been covered in bugsplats. Butterflies and bees are being lost. Mammals, reptiles, birds, fish, amphibians. It is not only incredibly sad to lose all this beauty, but it is incredibly dangerous. Ever study the food web in school? Remember how everything is interconnected, and when pieces start going missing stuff can fall apart? Remember how clean air and oxygen come from healthy forests and oceans? We are putting all of that at risk.
Of all the reasons for this, one of the very largest is… wait for it… industrial, chemical farming. We have demolished millions of square miles of habitat, and replaced it with extremely simplistic, single-crop fields that are sprayed with poisons to kill everything except the desired crop. This is unbelievably short-sighted.
And all this unnecessary to feed the world. I'll quote myself from above because this is important:
And you know what? It has been shown that is possible to produce more food when farming properly than when people farm with the most modern chemicals, machines, and genetic engineering. And proper farming is far more resilient in the face of drought, pests, diseases, and changes in climate, whether manmade or natural.
The way I'll be farming, a significant amount of habitat will be preserved. Moreover, given that the land I'll be using is currently a grass pasture, I'll be able to significantly increase the amount of natural plant, insect, and animal life on the land.
Farming as an example
Good farming can do so much good for so many people. I want to join the growing number of people who are helping show the way. My contribution will hopefully be to provide a free, carefully documented example of a startup farm that would be practical for almost anyone to do. An example that shows how to start with very little capital investment (no need to buy land, and hopefully under $1,000 for supplies which could be funded from community support). I'll be putting together a practical, doable roadmap/plan that covers a span of years and shows how start with gardening, then on to farming part time, then farming as a full time career.
Farming for a good life
Think of a bear in the woods. It is always rumbling around doing things that it needs to do to survive… but is it working? No, it isn't working. It is just being a bear, doing what a bear does. Fundamentally we are no different, and the troubles that come with work are our own doing.
We have a flawed mindset that divides our life into different kinds of things – work, family, church, community – and then if we spend time on one piece, it subtracts time from all the others. And then we lay awake at night stressed because we are too busy and don't have enough time to do all the important things we have to do, much less the things we want to do.
We also often have the problem of making a livelihood in unnatural ways. We do work at tasks that are highly abstract, tasks that are far removed from what we are built to do. For example, with my software work I spend a lot of time sitting still, staring at a pane of glass, wiggling my fingers.
Look at any pre-industrial culture. Imagine a Maori warrior, or tribal Scot, or an indigenous American. How many of them sat still everyday, just wiggling their fingers? How many of them needed to isolate the bulk of their energy and time from their children, their community, and their religion?
Here's what a farm-centered life will hopefully look like for us. We'll wake up as a family, and share breakfast, the head out to the farm. We will plant, tend, and harvest till lunchtime, as a family. We will often sing hymns and other songs while we are in the fields, and we will (hopefully) often have members of our community stop by to visit, and to learn. We'll spend more time in the fields in the afternoon, and some of us will hang out in our little farm stand by the road to sell our produce to the people driving home after work. We'll get a chance to meet, talk with, and provide nourishment for our neighbors.
It will not be work, it will simply be life. Living. Doing the kinds of things we are meant to do, outside in the fresh air, sunshine and rain. Spending our time and energy with the people we are meant to live with.
On Sundays, we will stay home from the fields and have rest, worship, and fellowship.
Wrapup
There are so, so many benefits to farming. It will let us be whole as a family, better connected with our community, closer to our God, keeping ourselves healthy and helping those around us to be healthier, stewarding our inheritance for the generations to come, and helping show a better way to a world that desperately, desperately needs it right now. For the life of me I can't think of a better way to spend our lives.
I should note that farming can be backbreaking and stressful work. But it does not have to be that way, and it should not be that way.
I have studied agriculture and farming for years now, and have found many, many examples of people who are farming properly and it is neither backbreaking nor stressful. When done right, farming does not involve farm loans, expensive machines, and chemicals. Good farming is very resilient, and is much more able to handle the pests, diseases, and market fluctuations that would ruin a conventional farm. All that good farming requires is responsible business practices, industriousness and commitment. I view responsibility, industriousness and commitment as very important components of a good life, so no loss there!
This is all for now. The next post will be a very practical one – a list of the steps we have taken so far, what we are working on now, and the general plan to take us from pasture to a working farm in the next few months. Stay tuned!